Friday, April 20, 2007
Here are a few cards I've made for New or Expectant Mothers
I've scanned the cards into my computer and the pictures do not do them justice. The colors and patterns are much richer in person. I just need to get new batteries for my camera so I can take some really lovely photos of my cards.
I absolutely LOVE the first one. The patterned papers I used are from my favorite paper company, Chatterbox.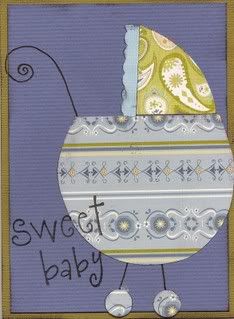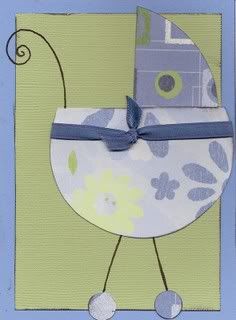 Posted by

Lauren
at 12:05 PM
0 comments

Thursday, April 19, 2007
All my life I've loved to make things - for myself and for other people. I love everything crafty! When I became pregnant with my first son I started to take up
scrapbooking
. Quickly it has become and obsession. There are so many cool and fun tools, beautiful papers, unique embellishments and tons of creative ideas out there. Once I started
scrapbooking
I started to make greeting cards. Using the ideas in my head and inspiration from other's creations I have created some beautiful(at least I think so!) mini pieces of art! I love every step of the process from wandering around the scrapbook store looking at the hundreds of different patterned papers to gluing the finishing touches on the cards. With a lot of encouragement from my husband I have decided to start my own
papercrafting
business. I will focus mainly on greeting cards for all occasions. I am also going to try a few different things and see what people like and will buy. In the future I hope to expand my business and create unique invitations for events such as weddings, baby showers etc.
I am really looking forward to this adventure in entrepreneurship! I just need to find the time to really focus on this
endeavour
- no small feet with two little boys, two jobs and a house to look after ...
Posted by

Lauren
at 11:10 AM
0 comments

Just testing the template
Posted by

Lauren
at 10:55 AM
0 comments